2017 Commissioned by Stadsarchief Amsterdam: Series of drawings around the theme Groeistuipen. Van wie is de stad?
---
2016 Commissioned by Museum Boijmans van Beuningen Rotterdam: Edition of silkscreens for Kunst4kids 2016
---
2008 Commissioned by Tafelberg / NB-Uitgevers, Cape Town: Comic contribution to the publication As almal ver is

---
2008 Commissioned by Rabobank Nederland: An edition of lithographs as a special offer to Rabobank employees.

Read more about the "Endless" litho
The "Endless" litho is inspired by the ceramics of Lucca della Robbia (Florence, 1399 or 1400 -1482), in particular by A Portrait Of A Young Lady. I was able to see Della Robbia's work in Florence last spring. Struck by the simplicity and beauty of his art, I immediately saw a connection to the lithograph I was going to make. Especially his economic use of colour and the circular shape brought this connection to mind. As in ceramics, traditional lithography usually uses only a few colours. Lithography is an indirect medium, as are all graphic art forms, and in this way unlike drawing or painting. The printing process comes between the hand of the artist and the finished product. This gives the end result a certain distance. Indirectness is also a feature of ceramics glazing, a specialty of Della Robbia's, as in this case the baking stands between the artist and the final product. In both media, it is almost impossible to determine the precise outcome of the colours in advance, which adds an unpredictable quality to the work process.
In "Endless" the face is drawn after a picture in a fashion magazine. I have made many drawings from models in magazines and painted many portraits. The fruit still life is another important theme in my work. I am fascinated by the sensuality of fruit and its inherent symbolism. As the Rabobank already has a fruit still life of mine in its collection, I was interested in involving fruit in this commission too. Incidentally, the way in which I use fruit as an element here is also in reference to Della Robbia's working method.
Thanks to the circular shape and the glowing colours, this 21st century Madonna seems to be poured into a stained glass window. Although I realise that in contemporary, wealthy Europe fruit is no longer seen as an object of temptation, I like to use fruit – in this case an apple and a pear – as symbols of desire. Besides the stained glass association, the size of the paper also contributes to the almost religious appearance of this work.
Ina van Zyl
Amsterdam,  17 August 2008″]
---
2006 Commissioned by weekly magazine Vrij Nederland: Four portraits painted as covers for the May issues.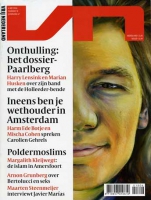 Alderman arts, culture and sport Amsterdam
65 x 50cm
Oil paint on canvas
Issued: 6 May 2006
Nr.18, Vol. 67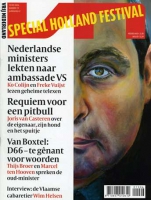 Artistic director Holland Festival
65 x 45cm
Oil paint on canvas
Issued: 13 May 2006
Nr.19, Vol. 67
---
2000 Commissioned by the Dutch Flemish Theatre Festival: A comic after Hugo Claus's play Vrijdag

---