Then There Were Three
Odile Maarek
Diana Quinby
Ina van Zyl
A drawing exhibition at Galerie Onrust Amsterdam
Opening Saturday 21st of January 2023, 4-6pm
Until 25th of February 2023
Galerie Onrust
Planciusstraat 7
1013 MD Amsterdam
Open Thursday – Saturday 1 – 6pm and every day by appointment
info@galerieonrust.nl
www.galerieonrust.nl
From the press release: Intuition is like a scent; elusive, invisible and yet instantly familiar. That unnameable certainty, about each other and about each other's work, brings Odile Maarek, Diane Quinby and Ina van Zyl together. Three artists, three women, who as intuitively as spontaneously decided to do something together, "like people starting a band would do".
Realism from 1900 to the present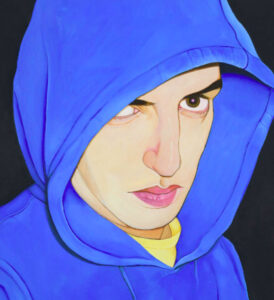 Until March 5th 2023
Museum MORE
Hoofdstraat 28
7213 CW Gorssel
Opening hours Tuesday to Sunday from 10am – 5pm
Tickets
info@museummore.nl
+31 (0) 575 760 300
www.museummore.nl
With work by 81 contemporary artists.
Museum MORE explores realism in Dutch art from the past century to the present day through a fully revamped display of its own collection. The new presentation includes 180 works of art, many of which have not previously been shown at the museum, supplemented by some thirty loans from contemporary artists.
Thérèse Schwartze Prize 2022
November 23rd 2022 Ina van Zyl (1971) will receive the Thérèse Schwartze Prize for portraiture during PAN Amsterdam. Van Zyl will receive the prize, an amount of money and a coin by Eric Claus, from Marlene Dumas who won te prize herself in 1989.
The prize giving takes place November 23rd 5pm at PAN Amsterdam. Stand 120
During PAN the Thérèse Schwartze Stichting has a stand presenting portraits by Ina van Zyl
20 – 27 November 2022
www.thereseschwartzestichting.net
www.pan.nl